UPDATE: To the surprise of — literally — no one, the Wrangler won the Hottest 4×4 @ SEMA 2014. Given the criteria was how many of that model vehicle were displayed, anyone who could see 10 feet in front of them could have made the judgement in just a few minutes of walking the off-road hall. Congrats to Jeep for continuing to own the greatest platform for aftermarket modification.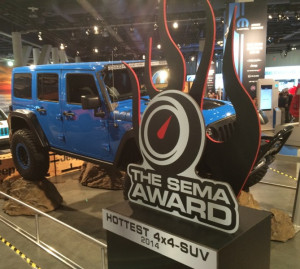 Next week is the 2014 SEMA Show and the finalists for the SEMA Award have been announced. Surprise of surprises: the Wrangler is nominated for Hottest 4×4/SUV. The most iconic vehicle offered by Jeep is up against the Toyota 4Runner and the Cadillac Escalade.
The criteria for the award had always fascinated us, it's a simple tally of how many exhibitors at SEMA choose that model to display.
"The SEMA Award recognizes vehicle models that specialty-equipment manufacturers believe are the best platforms for accessorization and to showcase the year's newest products. The winners each year are determined by counting the vehicles that SEMA Show exhibitors choose to invest in and display in their booths."
So if you assume that all of the biggest aftermarket companies are at the massive spectacle that is the SEMA Show, the winner is essentially the vehicle with the largest aftermarket following.
While pickup trucks have their own category, it's comforting to know what Jeep folks have always known — the Wrangler, as a platform for customization, simply rocks.
The winners are announced at a press conference on Tuesday and JPFreek will be live blogging from the event as well as updating on JPFreek Facebook, Twitter and Instagram