There's a large, grassy campsite right on the beach that features a flash new picnic shelter and composting toilet and at low tide, a headland riddled with caves full of tiny bats.
We had lunch on the grass then retraced our route back the main road for a high-speed (55mph) blast along the corrugations to Bramwell Junction, where the Jeep's Cape York Adventure came to an end as we loaded it back into the trailer for the trip south.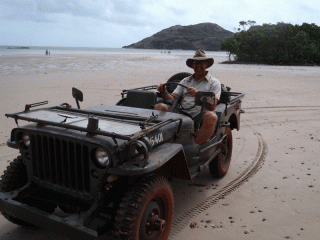 The tough little Jeep had conquered 'The Cape' easily, and our crew had enjoyed the best four-wheel drive adventure of their lives. Everyone who drove it was astounded at just how good it was, not even considering its vintage.
"It's a Jeep thing." Now we understand.
– Brad is the author of "Dirty Weekends: The Essential 4WD Guides" and is also the inventor of Maxxtrax, a recovery product that has become essential when travelling off-highway in sand, mud, snow, and other various terrains. You can view Brad's profile and learn more about Maxxtrax products by clicking here.
Related – MAXTRAX Vehicle Recovery Device