Sunday morning was more relaxed than the previous mornings. People had that well-rested, content look on their faces and no one was in a hurry to much of anything. The only trail ride that morning was a short loop run by Chuck to check out some Native American Petroglyphs and steep ledges.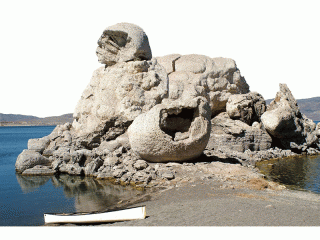 The best part of the day was spent socializing and enjoying the scenery. Everyone had lots of time to look each others trailers and rigs over and see what personal modifications they had made. Who had fitted electric water pumps, how someone had leveled their trailer in the campsite using the airbags, who had a fridge on a full slide, and of course innovative places to hang the fuzzy dice!
About half of the 35 campsites packed up and were making moves to leave by the afternoon. The remainder circulated from group to group sampling each others snacks and beverages.
Kellee and Richard invited everyone over to their huge fire pit overlooking the lake for a pot luck dinner that evening. Brian put on a slide show and video of the previous two days' Steven's
Loop runs. A nice, mellow way to end the weekend.
By 10:00am on Monday, the beach was deserted except for me. It was a strange experience to be standing there alone in a place that had been so recently full of friends.
Related – Road to Near Heaven
– Special thanks to Martyn Davies of Adventure Trailers for his contribution of editorial and photos for this article

* Published by JPFreek Adventure Magazine – The leader in Jeep and adventure enthusiast publications.