We are proud to introduce the JPFreek Field Reporter program. Ever think "I could write a better review!" or "Why won't someone write a story on our event?" Now you can make it happen and you may win a $50 gift card from ExtremeTerrain or JPFreek gear!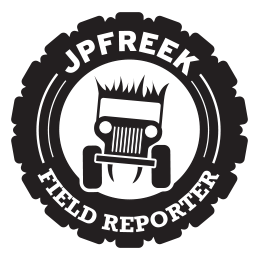 Using the form and upload tool below, Freeks can upload their own stories and photos for review by the JPFreek editorial staff:
Technical stories
How-tos
Product reviews
Jeep builds
Trip/event reports
Selected stories will be published on JPFreek.com and may be edited for grammar and length. Only complete pieces with high-quality supporting images will be considered for publication. All photos submitted will be considered for use on JPFreek properties and social media.
The best story of the month, as judged by the JPFreek editorial staff, will win a $50 ExtremeTerrain gift card

Two additional stories published on JPFreek.com each month will also win a JPFreek t-shirt

The authors of

all

published full stories will receive a JPFreek sticker
Instructions for upload:
Provide all information required (mailing address is required for mailing of stickers/shirt/gift card)
Upload all files and photos together at one time
Accepted file types: doc, docx, txt, pages, jpg, gif, png, tiff, bmp, pict
Field Reporter File Upload Tool
Please use the form below to provide your contact information and upload your files for the JPFreek Field Reporter Program. Once you submit the contact information, the upload tool will become available.
NOTES: You will need to input your last name again in the upload tool in order to tie the files to your contact information. Once the upload is complete, you will see checks on all progress bars and you may continue to browse the site. You will receive a confirmation email of your upload.
JPFreek Field Reporter program monthly prize sponsored by ExtremeTerrain
Click here for the terms and conditions of the JPFreek Field Reporter program.