So, back to Romp. Here's how it works. Bruce updates the Winter Romp website, usually over the holidays, with that year's Romp date (always President's Day weekend) and the itinerary. The itinerary is really used more for its list of meeting spots than it is for an actual event schedule. However, as simple as the itinerary appears on its face, it's diabolically difficult to complete and, to Bruce's knowledge, no one's ever actually participated in every listed activity/social gathering (not that anyone other than me has thought about trying but that's beside the point).
This year I was determined to be the first ever to participate in each and every scheduled Romp activity. And to raise the stakes a bit, Bruce decided to add a little competition. Anyone successfully completing all Romp itinerary items wins the "Down For Broke Trophy," DFBT for short (I know, it looks like DEBT, no pun intended; well, maybe a little pun). This was not just a figurative trophy, but a real one. Bruce had fabbed up an actual trophy made of various broken parts lying around his garage shop and even painted it gold for luster and brilliance.
This year's itinerary looked benign enough but after looking closely, you could see the culprit. Yup, you guessed it. Saturday night "Late night off-roading." How does a self-respecting Romper forego Saturday night out on the town for the sake of night-wheeling, especially when you usually get off the trail well after dark from the, uh, day-wheeling? Despite this obvious hurdle, I was determined to win DFBT. More on that later.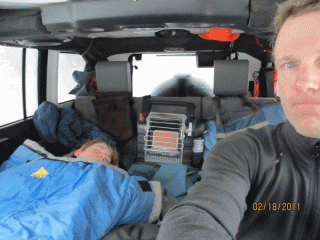 When President's Day weekend rolls around in Waterville, Maine, as many as 100 Rover owners simply show up at Romp. They arrive on various days and at equally various times, but a huge number of enthusiasts attend every year and, even if they don't even look at the itinerary, they always, and I mean always, make it to "Big G's" for breakfast. Big G's is an institution in Waterville and it's the perfect place to catch up with old friends over a belly-stuffing breakfast and sandwiches to go that a family of eight could live on for a weekend.
Now, I know you all must be wondering something. This is JPFreek Adventure Magazine and I know this Vollers guy drives a 2008 Rubicon, so why and how is he at a Rover event in the middle of winter? It's an interesting story. You see, I started wheeling in a Rover series truck and, through the years, I've owned a bunch of different kinds of Rovers, but, as my kids are in their early teen years and their activities are growing increasingly more expensive and prep school and college tuition bills are breathing down my neck, I find myself with less and less disposal income with which to keep said Rovers running.
Being an attorney by day and bike team coach in all other spare moments, unlike Bruce, I'm not the type that can easily keep my Rovers running with bailing wire and duct tape, so I started to look for something different.
Except for a very brief foray with a massive XJ rock crawler purchased on eBay, I had not thought about Jeep ownership as, like many Rover enthusiasts, I didn't feel that a Jeep was "interesting" enough. But then I really sat down and started to think about things. What other vehicle comes from the factory under warranty with solid axles, front and rear diff locks, low gearing, a relative minimum of electronic gadgetry and all in a fairly lightweight expedition platform? Even with all that, the clincher was sustainability. Not sustainability in an environmental sense, but sustainability as in "What's the best way I can responsibly sustain my overlanding addiction without ending up in bankruptcy or divorced, or both?" Although I still adore Rovers (I really love all 4x4s and have loved them since I was old enough to play with my Matchbox International Scouts), my current JK provides excellent service as daily driver, kid hauler, weekend off-roader, and family long range vacation rig. That's not an easy combination for a vehicle with a 4 inch lift on 35s, but it works with the JK.